Being part of the team.
So you wanna be a race car driver? You're in the right place. We're a small team of a few very polite guys who came here to race. Nothing more exhilarating than jumping the wall into the hot pits, climbing into your race seat, getting strapped in, making your way down pit road, the pit marshal waving you through. Next thing you know you're on the track chasing down modified BMW's, Spec Miatas, Rx7's and VR6's.
How we do it? We try and split cost as evenly a possible. Entry fees, tires, brake pads, fuel, fluids, transponder rentals and cost of transport.
Entry fee for the car varies but on average is around $1200. We are currently running dunlop star spec tires and we like to have two sets with us at the track. Our brake pads of choice are Hawk Performance plus pads and we'll have a spare set on hand for race day. We typically burn between 5-7 gallons of fuel per hour and will change all fluids before every race.
Drivers cost: $600-$800 - We like the idea of 3-4 drivers per event. This way we all get plenty of time behind the wheel but are not too fatigued from driving. Drivers are required to wear snell sa2010 or newer helmets, racing suit 3.2/a5 sfi multi layer, fire retardant sfi socks, sfi shoes sfi gloves and Hans device neck restraint. All equipment can be rented for an additional $175.
All drivers must be Chumpcar members ($50 annually)

Driver swag: Drivers will receive driver shirt, sticker pack, drivers card and pit pass and 25% off all gorillasticker.com merchandise.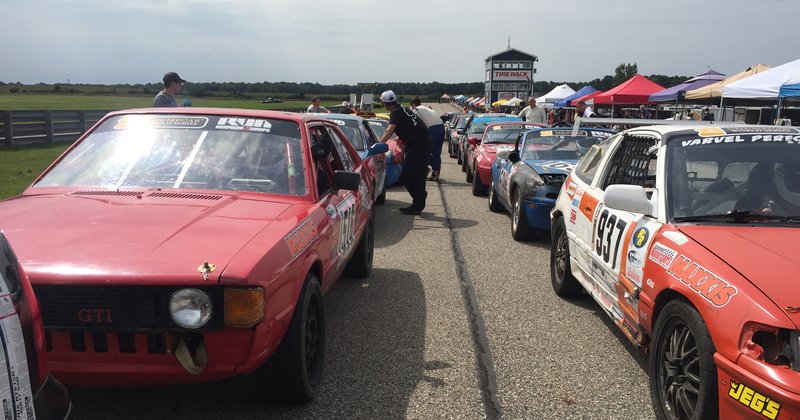 Not ready do drive but still ready for action? Join our pit crew! This is a great place to learn a little more about racing and get more comfortable around the car. This is also an amazing opportunity for you to get "down and dirty" it in pits. See all the cars up close and feel the rush of being around one of the fastest teams in the midwest! (they'll usually pit close to us)
Pit crew: - It takes two to fuel. Its mandatory for all cars fueling to have one man operating a 10lbs fire extinguisher no more than 10 feet from the fueler during fueling. Both fueler and fire extinguisher crew members must wear fireproof safety equipment. This includes sfi fire suit, sfi gloves and snell sa helmet with visor down. Other pit crew duties that do not require fire safety equipment: Changing tires, torquing wheel nuts, checking oil and fluid levels, checking and setting tire air pressure, cleaning windscreen, helping drivers in and out of car, communication with drivers via com radio devises.
All crew members must be Chumpcar members ($50 annually)

Pit crew swag: Crew members will receive t-shirt, sticker pack, pit pass and 25% off all gorillasticker.com merchandise.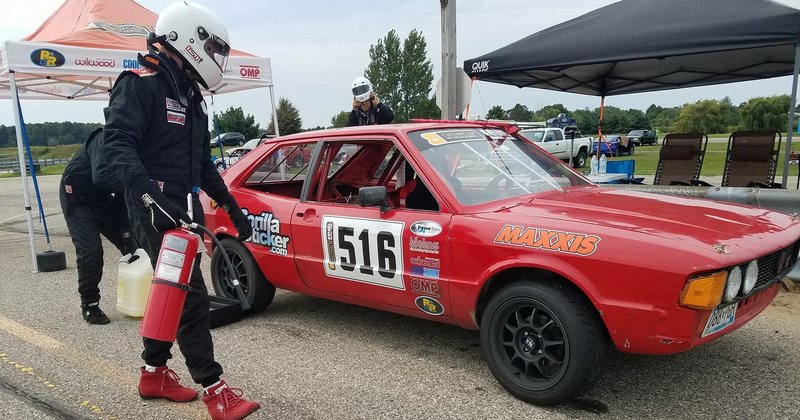 If you're interested in driving or being part of the crew tell us a little about yourself. i.e. any driving experience, are you mechanically inclined? where do you live? What size gorillasticker.com Driver shirt do you wear? Whats your favorite breakfast food?
Interested in an event? contact us directly at: info@gorillasticker.com

"Whatcha waiting for? Grab your goons and lets go!"
-Karla